Memorial Day Celebration 1960-L-R Boyd Wendell, Richard Burley, Rev. Willis, Howard Richmond, A. N. Cook
Legion Memorial Park Dedication Memorial Day 2016
American Legion Eligibility Dates WWI April 6, 1917 to November 11, 1918 WWII December 7, 1941 to December 31, 1946 Korea June 25, 1950 to January 31, 1955 Vietnam February 28, 1961 to May 7, 1975 Lebanon & Grenada August 24, 1982 to July 31, 1984 Panama December 20, 1989 to January 31, 1990 Persian Gulf August 2, 1990 to cessation of hostilities as determined by U.S. Government U.S. Merchant Marines December 7, 1941 to August 15, 1945
The American Legion Cameron Post #18 2017/2018 Elected Officers Commander-C. Wm. (Bill) Harris 1st Vice-Hazen Pyles 2nd Vice-Vern Bunch Adjutant-Larry Hull Finance-Dave Rayle Chaplain-Dave Logan Sgt-at-Arms-Bill Monohan Service Officer-Rick Anderson Historian and Amour-John Kostrej Parliamentarian-Rick Davison CLUB ROOM MANAGED BY HOUSE COMMITTEE House Committee Members-Commander-C. Wm. (Bill) Harris Past Comm. Don Carrigg;1st Vice-Hazen Pyles; Adj.-Larry Hull; Fin. Officer-Dave Rayle; Appointed-Wayne Simmons; Lisa Warren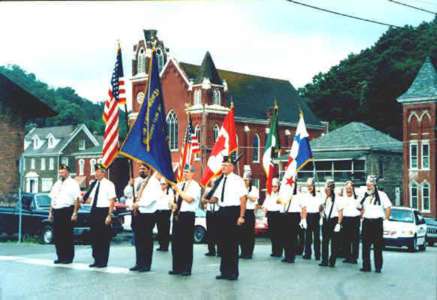 Participation in 4th of July Parade
Meeting Times
All Meetings will start at 7 P.M.
Meetings are held on the 2nd Monday of each Month.
Dues are $36.00
Activities
Christmas dinners for shut ins.
For Application Contact:
Debra Fox - crfox02@aol.com
Woody Yeater - wyeater@frontiernet.net
Local Marines Honored
Sons of The American Legion Squadron #18
2016/2017 Elected Officers Commander-Rickie Tedrow 1st Vice-Larry Jones 2nd Vice-Gary Wade Adjutant-Woody Yeater Financial Officer-Wayne Simmons Sgt-At-Arms-Chad Ross Chaplain-Jim Roberts Historian-Rocky Guzek Advisor-Bill Harris


Nelson Whipkey 1961 CHS Graduate
Major General Patrick G. Howard CHS Graduate
Meeting Times
The 3rd Thursday of each month
at
7:30 p.m.
Dues are $25.00
Activities
Money is raised through
Steak Fries and Chicken Roasts
American Legion Ladies Auxiliary
2016/2017 Elected Officers President-Debra Fox 1st Vice-Pam Faulkner 2nd Vice-Sue Briggs Secretary/Treasurer-Jean Chambers Meeting Times 2nd Wednesday of every month Dues are $15.00 Bingo 1st and 3rd Tuesday of each month 6:45 p.m. Early Bird Games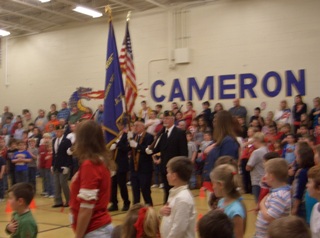 School Veteran's Day Program
The American Legion To file a VA Claim: 1-800-433-3318 Department of Veterans Affairs (VA) Helpline 1-800-PGW-VETS Local VA Office: 1-800-827-1000 Gulf Illnesses Homepage www.va.gov Department of Defense To schedule clinical evaluation: 1-800-796-9699 To report events in the Gulf possibly related to poor health: 1-800-472-67-6719
Local Veterans Affairs Officer (Wheeling) VSO Mike Craig www.ebenefits.va.gov Can file a claim Receive medical records Get a DD214 West Virginia Division of Veterans Affairs 304-238-1085 Human Resource Center 51-11th Street, Room 300 Wheeling, WV 26003

West Virginia Department Of The American Legion

National American Legion Web Page: http://www.legion.org/